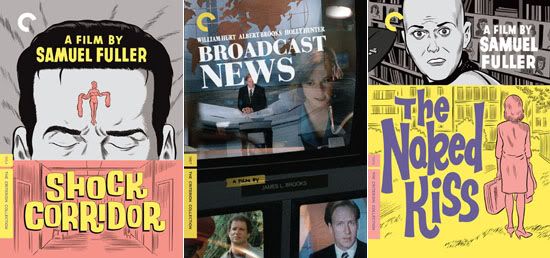 The Criterion Collection revealed its January slate on Friday and as per usual, it's another solid line-up. While there've been mild complaints that only two new discs were announced, the two reissues are just as exciting if not more so.

Starting off with the new, on January 25th, the speciality DVD company will release James L. Brooks 1987 dramedy classic, "Broadcast News" starring Albert Brooks, William Hurt and Holly Hunter, his second feature-length effort at the time — which he wrote, directed and produced — and still perhaps his most well-regarded film. This writer honestly hasn't seen the film since around the time it was released, so we'll let the synopsis do the talking for us.

In the 1970s, the name James L. Brooks was synonymous with intelligent television comedy — his shows were insightful about work and love and always tapped into the zeitgeist. With his transition to film in the 1980s, he became a master Hollywood storyteller, and none of his films was more quintessentially Brooks than Broadcast News. This caustic inside look at the Washington news media stars Holly Hunter, in her breakout role, as a feisty television producer torn between an ambitious yet dim anchorman (William Hurt) and her closest confidant, a cynical veteran reporter (Albert Brooks). Brooks's witty, gently prophetic entertain­ment is a captivating transmission from an era in which ideas on love and media were rapidly changing.
Notable extras include a commentary from Brooks himself, a documentary about the filmmaker's career in television — he created seminal TV shows like "
The Mary Tyler Moore Show
," its spin-off, "
Rhoda
," was also the creator of "
Taxi,
" and has been nominated for a whopping 47 Emmys and won 20 statuettes in total. Brooks famously got "T
he Simpsons
" started when, as a producer for "
The Tracey Ullman Show
," he hired cartoonist
Matt Groening
to create a series of shorts for the show, which eventually led the full-blown animated series in 1989. Tantalizing for hardcore "Broadcast News" fans out there and yes, they do exist, is the inclusion of deleted scenes and an alternate ending, with commentary by Brooks.


Another new entry for the new year is a -4-disc Eclipse set by the English director
Basil Dearden
, known for his comedy work at London's heralded

Ealing Studios

. However, this set, called, "
Basil Dearden's London Underground,
" focuses on his darker, socio-political and controversial films that came after those breezy 1940s pictures, from the years 1959-1962 including 1959's police procedural "
Sapphire,
" which dealt with bigotry across cultural lines, 1960's considerably less-controversial, yet influential heist picture, "
The League of Gentleman
" starring
Richard Attenborough
, 1961's "
Victim
" which focused on the taboo's of British homophobia and 1962's psychodrama, "
All Night Long
"; a translation of Othello set in the smoky, London jazz clubs of the 1960s (jazz greats like
Charles Mingus, Dave Brubeck,
and
Tubby Hayes
appear).

Lastly, two long-overdue reissues have finally arrived. On January 18, Criterion will ring in the new year with two par-excellence pictures from the venerable

Sam Fuller

; the twisted pulpy noirs, "

Naked Kiss

" and "

Shock Corridor

." Both films are two of the earliest films Criterion released, bearing the spine numbers #18 and #19. Indie comic book enthusiasts will also immediately recognize the artwork of "

Ghost World

" illustrator

Daniel Clowes

, perhaps a contemporary, more comedic analogue to Fuller's caustic world of seedy misfits, outcasts and woe-begotten deviants.

The earlier film, "Shock Corridor" (1963), is seemingly B-movie outrageous -- a reporter gets himself committed to a mental hospital in order to track an unsolved murder -- but it's an ever-watchable and engaging slice of trashy melodrama and social commentary. In a modern context, it appears to be the film that inspired

Dave Chappelle

's Clayton Bigsby blind white supremacist skit on "

Chapelle's Show

." In 1996, the Library of Congress selected the film for preservation in the
United States National Film Registry for
being "culturally, historically, or aesthetically significant." Released the following year in 1964, "Naked Kiss" is perhaps even more sordid and controversial, and centers on the exploits of a prostitute trying to find redemption by giving up her illicit lifestyle and adapting into mainstream society.

Constance Towers

is a firecracker in this bold, stylish and bizarre psychodrama. Both are must-own discs and if you trust the Criterion tastemakers at all you'll realize that seven of his pictures (including four from the Eclipse set) are part of their collection (Our vote goes to the underrated "

40 Guns

" with

Barbara Stanwyck

if they ever try and add an eighth film). Both films will be available on Blu-Ray as well.

Finally, coming to Blu-Ray are
Jean-Pierre Melville
's 1969 masterpiece, "
Army Of Shadows
," starring the great
Lino Ventura
, and
Byron Haskin'
s
"
Robinson Crusoe On Mars
."