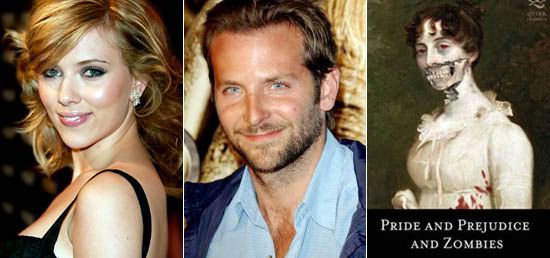 "Pride and Prejudice And Zombies" is back from the undead. Err, it's come back to life? No that doesn't work either....

Though within the span of one week it lost its director (David O. Russell, who left to take on the video-game adaptation, "Drake's Fortune") and its lead actress (Natalie Portman, who will still remain on as a producer), the picture is actually rising from the grave once again.

Deadline is reporting that Bradley Cooper and Scarlett Johansson are names that O. Russell had in mind for the lead roles of Fitzwilliam Darcy and Elizabeth Bennet before he left and still should be considered the frontrunners. Meanwhile Lionsgate is claiming no cast has been named yet, but "other actors" are in the mix.

And Pajiba, who seem to shying away from reporting news stories on their blog, instead noting news on their Twitter feed, may have solved who those people are reporting that, Mia Wasikowska, Tilda Swinton and Catherine O'Hara are also possible actresses for the lead, Bennet, Lady Catherin and Mrs. Bennett respectively. Wasikowska would be a good fit, but won't Cary Fukunagas "Jane Eyre" be slightly too similar of period pieces even though Bronte and Austen's style and tone are vastly different? Swinton and O'Hara though, do sound like deliciously good choices and we hope they stick.

Evidently, now that O. Russell is off the project, directors are lining up for the gig and Deadline says one of them is likely going to be David Slade who was on the short list to direct "Wolverine 2" which now looks like it's all but Darren Aronofsky's gig (we still feel odd about this).

Update: Deadline have added another couple of tidbits to their story, suggesting that Mike Newell ("Prince Of Persia," "Donnie Brasco") is the current front-runner to take over from Russell in the director's chair, and that Neil Marshall ("Centurion") is also in consideration. If it's going to be one of the two, please say it'll be Newell, even if he is coming off the worst film of his career...